Sale!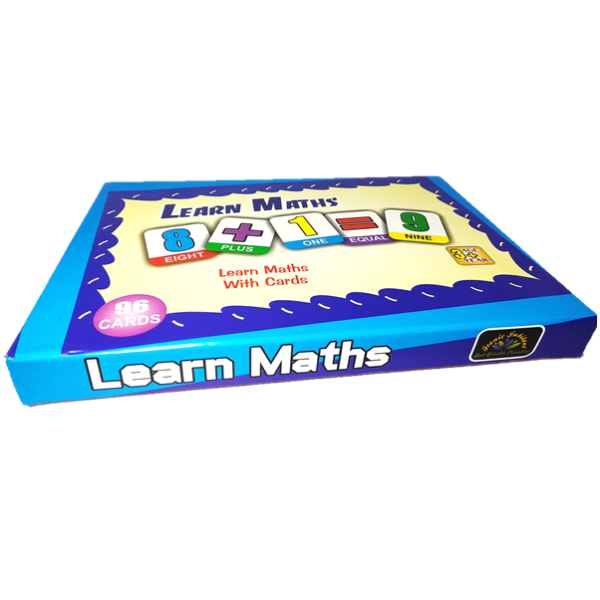 Learn Maths Thick Colourful Flash Cards Set (96 Pcs)
Key Features:

🟠 96 Pcs Thick & Colourful Cards
🟠 Mathematical Cards With Spellings
🟠 Safe Material For Kids
Key Benefits:
🟠 Enhances computing skills
🟠 Stimulate senses
🟠 Creativity & visual development
🟠 Hand & eye co-ordination
🟠 Logical & problem-solving skills
Other Specifications:
🟠 Age: 3+ years
🟠 Material: Paper & Board
🟠 Battery: Not Required
🟠 Weight: 707 gms
🟠 Dimensions: 34x23x4 cms
In stock
Description
About:
Tiddle Toons presents Fun Learn Maths Thick Colourful Flash Cards Set (96 Pcs) for Smart Kids. These flashcards are very interactive and skilful in nature, as while playing with them, a kid will unknowingly enhance his/her mathematical skills.
The product consists of good-quality 96 pcs mathematical flash cards including numbers, roman numbers, symbols. A child can arrange these cards in order to solve simple math equations. Additionally, he/she can learn the spellings as well.
It develops many skills in children such as it enhances computing skills, stimulate senses, creativity & visual development, hand & eye coordination, logical & problem-solving skills.
Package Inclusions:
1 x 96 Pcs Mathematical Flash Cards
Delivery:
The product will get dispatched in 1-2 working days and will get delivered as soon as possible (depending on the order destination).
We hope you'll like our product.
Additional information
| | |
| --- | --- |
| Weight | 0.707 kg |
| Dimensions | 34 × 23 × 4 cm |
Return Policy
We, at Tiddle Toons, believe in 100% customer satisfaction. Just order the product with us. If you find any difficulty or any issue with the product, feel free to contact/chat with us or return it. We accept returns within 7 days from the delivery date.
Conditions:
The return package should contain all the parts and free items (if any)
The product should be properly packed in the original packing with the same address label on it
The product should not be broken/torn in any case
Any coupon/offer used during purchase will no longer be applicable
Only logged in customers who have purchased this product may leave a review.